Welcome to the 7 Day Writing Meditation Course page!
This course will help you to develop tools and insights for overcoming habitual mind states, self-sabotaging thoughts and behaviors. After about only one week you'll feel yourself beginning to open up to others and to your creativity and imagination.
Please keep in mind that this course is only seven days and for a habit to take hold it takes at least 21 days. That means continuing to practice after the course has ended.
This is just the start of the journey!
Each day you'll be introduced to an exercise and meditation that allows you to confront any doubts or judgements about yourself, and to begin to overcome obstacles to happiness and self-awareness.
All you need for the writing exercises are a pen and a notebook. Or a computer or voice activation device if you prefer.
Writing meditation can be a powerful way to bring the active mind in closer alignment with the mind of meditation. This course will give you an immersion into what a daily writing and/or meditation practice is actually like, and how it has the potential--in time--to transform your life.
Also, just a note that you can download the Teachable app to access this course on your mobile device. There may not be any visuals but the meditations, audios, and writing exercises will be there.
WHAT YOU CAN EXPECT FROM THE COURSE
Each course unit includes a written and audio meditation followed by a writing exercise and homework.
This course works really well to help you begin on the path to:
Bring more creativity into your life
Be more outgoing
Develop loving kindness and compassion for all beings
Heal past trauma
Become more self confident
Be more trusting of yourself
Become a better, more intuitive writer
Unleash ideas for your writing
TESTIMONIALS FOR THIS COURSE
I feel like I just took a deep dive into a cool, peaceful river and came out refreshed and centered in the zone. So good! –Nadine Prada
I wrote some great things after this first session. –Jade Cleveland
This course will allow you to express your natural creativity. It helps you to let down the barriers that your mind or the past place on your creativity. I highly recommend this course! –Sergiu Funieru
I like the idea of letting the first thoughts carry you as far as they do naturally, and then stopping there. –Katie Gates
I enjoyed not letting myself cross a word out or stop to think, I just kept my pen on the paper in continuous motion until I was done. It's interesting where my writing began and ended up. –Sam Sherman
It felt good to write down the critical voices that have had a negative impact on my writing. –Mollie Ramos
In a world of overstimulation, deep listening is a breath of fresh air. –Sylvie Stevenson
This course has helped me to re-set creatively, with it's gentle approach to creativity and awareness of one's surroundings. I use this course as a harmonious start to my day, before I do other writing work. I definitely feel like the physical act of writing in a journal, as I do with this course, has reconnected me with a different part of my storytelling. –Alexia Bergstrom
Your Instructor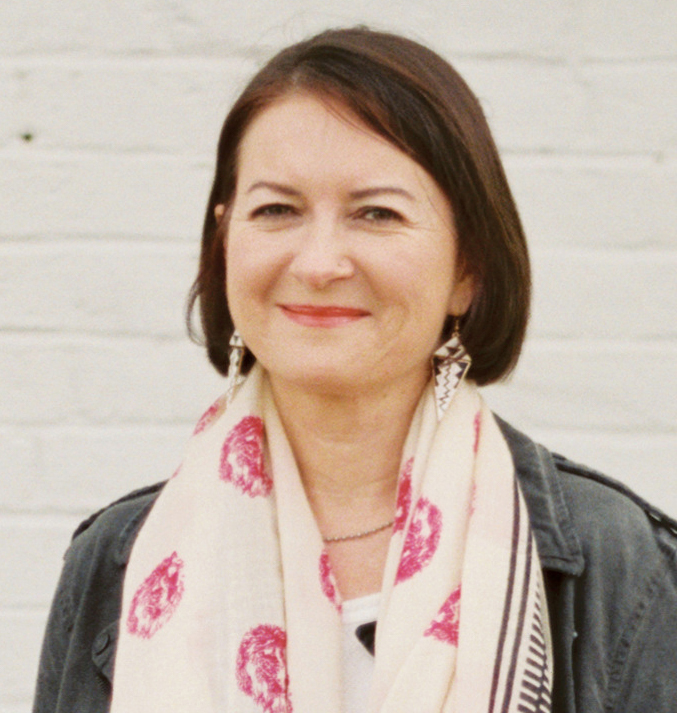 Many of us are overworked with no time to access our creative selves and even less time to cultivate our intuition. As the founder of Good Stories Grow Here Writing Studio, I offer somatic-based writing courses to help students slow down and be more present.
I tailor my one-on-one Heart Writing sessions to individual needs, whether that's working on pieces of personal writing to completion, doing somatic-based writing exercises and meditations to address blockages in the body, or honing in on a person's story that's waiting to be told, and helping them to develop that story.
Uncovering stories that live deep within us can produce a lightness of body and spirit, carrying us to a higher level of being, relationship to the world—and a greater joy.
For 20 years I've followed a daily meditation practice, and draw guidance from Vipassana meditation and other mindfulness techniques. My intuitive guidance is informed by years of bodywork and study encompassing craniosacral therapy (CST), yoga, Radical Wholeness embodiment techniques, Jungian dreamwork and archetypes, mythic imagination, and my own journey living with chronic pain over 20 years and coming home to my body.
I'm the author of five books including Milk Fever, a historical fiction novel, and co-translator from French of a book of poetic prose. Publisher's Weekly, Elephant Journal, the Globe and Mail, and The Creator's Journey podcast (along with Jonathan Fields from The Good Life Project and Gretchin Rubin, author of The Happiness Project) have featured me or my writing.
I hold an MA in English Studies from l'Universite de Montreal and a post-graduate diploma in writing from the University of Victoria, Canada. My formal writing expertise is informed by over 20 years working as a professional copywriter, publisher, and communications generalist, and as a published author of fiction, a poetry translation, and non-fiction.
Course Curriculum
Lesson 1: FIRST THOUGHTS
Available in days
days after you enroll
Lesson 2: A SACRED SPACE FOR WRITING
Available in days
days after you enroll
Lesson 3: PRACTICE DEEP LISTENING
Available in days
days after you enroll
Frequently Asked Questions
Will the 7 Day Writing Meditation Course help me be more present?
You betcha. Practicing writing meditation consistently over a period of time will increase your awareness of the present and help you find more joy in the day-to-day. The 7 Day Writing Meditation Course will give you a taste for what a daily writing meditation is like. Although for a deeper, more involved experience you may wish to try my 21 Day Writing Meditation Course.
What does a typical lesson look like?
Each lesson introduces you to an aspect of writing and meditation that will allow you to go deeper into the process and be enriched by it. These lessons stand alone, yet taken together, they present a clear path to developing a consistent writing-meditation practice.
What do I get with the 7 Day Writing Meditation Course?
7 guided audio meditations, 7 writing lessons, 7 homework assignments, 7 quizzes
Will this course help with my negative self talk?
Yes. Throughout the course, there are meditations and writing lessons to help you deal with the mind voices. In fact, Lesson 4 deals specifically with this very topic.
Will this course help me with my writing?
While this course doesn't address structure, plot, character or voice as in a standard writing course, it can help you deepen your awareness of how the senses play a role in writing, as well as being present. To be a writer is to be aware of your surroundings, your senses, emotions, and what it means to be human. This course isn't a formal writing course per se, but rather a course to connect you more deeply to the experience of being in the world. An important lesson for any writer! Also, if you do this course every day in conjunction with the meditations, it can help you to form a daily habit of writing, which of course is important for sticking with a writing project.
What's the cost for this course?
This course is FREE.